Floating Systems
Jet™ Aerator System
Land-Base Systems
Floating Systems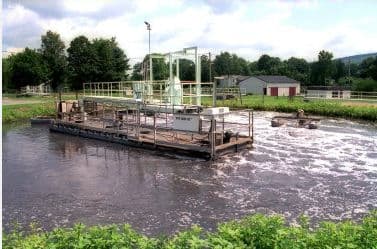 High quality materials and technology
Working with proven patented technologies, an innovative approach is used in the water treatment industry. Specific bacterial formulations in the Bio-Breeding-Chamber are combined with aeration technology. This synergy degrades the effluent in the lagoon, retention pond, or clarifier. The combined bio-mechanical approach allows for quicker recovery from shock loading or spills, and treats mal-odors from lagoon inversions in addition to increasing overall efficiency.
EPA survey determines the cost for traditional treatment solutions from $1 to $2 per million gallon; cost for Bioreactor performance range from $0.25 to $0.50 depending on existing infrastructure.
Standard Instrumentation Electrical cabinet with instruments for: pH, Flow, DO, BOD, Temperature, TSS, Computer readout.
Site Specific Instrumentation & Controls Air-conditioned where required, remote floating Pods in lagoon systems, routine readouts are determined by site specific pre-conditions.
Standards
| | | | |
| --- | --- | --- | --- |
| Floating BioReactor© | Electricity | BOD removal | DO production |
| FB-6020 | 30 AMPS | 880 lb/d | 85 lb/hr |
| FB-6030 | 45 AMPS | 1320 lb/d | 120 lb/hr |
Standard Instrumentation supplied:
pH, Flow, DO, Temp, TSS
Application Specific Instrumentation available. Other PRISMSS Products:
BioReactors©: Floating, Shallow-water, Land-based or Sumerged.
Microbology
Service Agreements
Jet™ Aerator System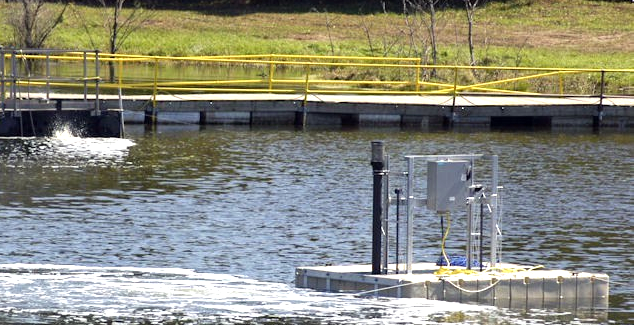 Jet Aerator 15 HP Aerator Low Cost of Operation More DO & Recirculation High Velocity and Horizontal Plume 120' Optimal efficiency Jet Aerator and Bioreactor© increasing recirculation

The Jet Aerator unit adds process capacity to existing treatment in lagoons, ponds tanks, outperforming less efficient equipment currently in place.
Lower Operating Cost
Efficient Mixing
Fine Bubble Diffusion
Energy Efficient
Increased Circulation
Technical Features:
Standard units with 3,5,7.5,10, and 15 HP
Variable Frequency Drive (VFD)
High Velocity 15 HP - 460 GPM
Submerged in second hydraulic layer 6' down
Equipment:
The Jet Aerator is mounted on a 10x10 floating unit
Weight: 2500 pounds
Electrical: 3 phase 480 volt 30 Amp
Operation speed for 15 HP: 17 fps at 65 psi
Standard Instrumentation:
pH, Flow, DO, Temp, TSS
Land-Base Systems
Where floating units won't work......
If your lagoons don't have sufficient space or improper layout for PRISMSS's system, a land-based unit may be right for you.


Where pre-treatment is necessary....
If solids content is too high for a floating unit, or pH may be detrimental to microbial growth, and land based unit allows pre-treatment prior to the biological treatment of the PRISMSS system.


Where post-treatment is necessary....
If sludge removal is difficult in your lagoon, post-treatment units to remove solids (such as clarifiers, filters, or hydroclones) are easily added to a land-based system prior to discharge.
Land-Based Configurations
Two models of units are available to meet your needs.

Epoxy-coated steel
For higher flows
For permanent installations
Up to 1,750 cubic feet of microbial growth
High Density Polyethylene
For average flows or ongoing system maintenance
Lightweight and easily moved between installations
Up to 950 cubic feet of microbial growth.